Ford Mustang Engine History
This Windsor, Ontario built 90° V8 was introduced in 1962 as a 221 cubic inch engine. It was Ford's first modern lightweight small-block replacing the old Y-block. In '63 it was available as a 260 and 289. The 221 has a bore of 3.5 inches, the 260 has 3.8 and the 289 had a 4-inch bore. The 289 had larger valves.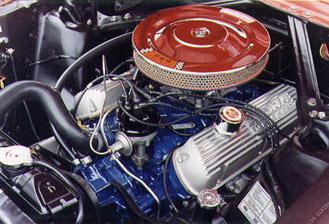 '66 289-4V
Through the years not all small-block Windsors were actually produced at the Ontario plant, but the name has stayed with the engine.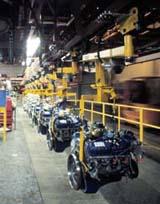 The Windsor, Ontario engine plant
The gross horsepower rating of the 221 was only 145. The 289 was 195 with a 2-barrel carburetor and 225 with the 4-barrel. The rare High Performance 289 was rated at 271 HP (about 13,000 HiPo Mustangs were made between the '65 and '67 model years).
Shelby used the 289 HiPo as the base for his GT350. The Shelby's were rated at 306 HP by using a larger carb, high-rise intake and less restrictive exhaust.
In Ford's GT40 the 289 had 390 normally aspired HP!
In 1968 the stroke was increased bringing the displacement to 302 cubic inches (4.9 liters). This engine was in the Mustang through 1995. In '68 a 2 and 4 barrel version of the 302 was available. The '68 Shelby GT350 was a 302. With the introduction of the 351 Windsor in '69 the 4 barrel 302 was dropped.
By 1971 smog laws began robbing horsepower with reduced compression ratios and the addition of mechanical smog devices. The 302 was not available in the '74 Mustang II. It returned in '75, but rated at only 140 HP.
Ford introduced the "High Output" 302 in '82, Throttle Body Fuel Injection in '84, Sequential Electronic Fuel Injection in '86, and bigger heads from a truck engine in '87. As computers started taking over control of emissions in the early 80's horsepower began increasing every year from '82 through '87.